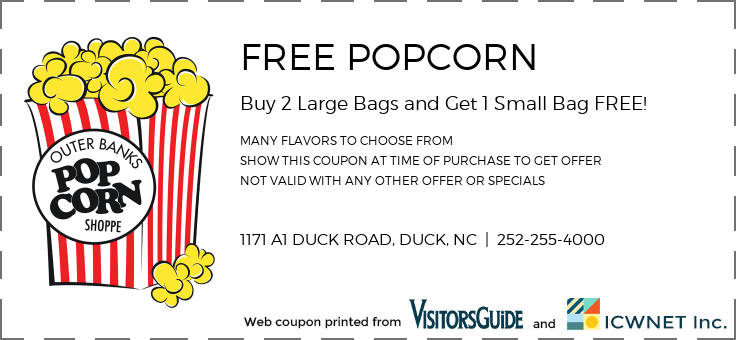 print
Indulge to your heart's content in glorious popcorn. This family-owned shop makes a wide variety of popcorn flavors to entice you into becoming a major fan. They use quality corn and fresh ingredients including real butter and fine chocolate. With over 20 flavors made fresh daily, you might want to sample a few – yes they offer free samples – before deciding on which to take home. Flavors range from the trusty buttered popcorn, caramel and white cheddar to cinnamon red hot, Old Bay and watermelon.
Outer Banks Popcorn is dedicated to freshness and makes all popcorn in small batches. They hand bag it the same day in a humidity-controlled store to ensure long lasting freshness. You can order popcorn in specialty bags to use as party favors for birthdays or other occasions. Check out their flavors at the shop or online at outerbankspopcornshoppe.com. While this is a seasonal shop, they do offer onlne shopping when it closes!
A Passion For Popcorn
Great Things are Popping at Outer Banks Popcorn Shoppe
Things are popping all along the Outer Banks, especially (and literally) at Outer Banks Popcorn Shoppe. Owners Ted and Lindsey Jagucki are elevating the popcorn game with their small-batch offerings in a variety of unique and mouthwatering flavors.
Ted and Lindsey Jagucki, husband and wife, moved from Ohio to the Outer Banks in 2004. They fell in love with the area, which is also where Lindsey's family is from. After finishing college, the two set out on an adventure for North Carolina's barrier islands and opened a pizzeria in Corolla.
"We came down here for pizza, saw a need for popcorn, and nobody was really doing the popcorn game yet, so we decided to open a popcorn shop," says Ted Jagucki. He grew up eating popcorn, and even has some family recipes for the airy snack.
Over a decade later, after opening in 2008, Outer Banks Popcorn now has two locations in Corolla and Duck. Running a small business for that long is no easy feat, however, Jagucki attributes the success of the popcorn shop to the high-quality ingredients used to create over 20 gourmet popcorn flavors.
"The biggest thing is we use really, really good ingredients. Everything is handmade," he explains. "We don't buy any pre-packaged mixes or anything like that."
When a customer walks into Outer Banks Popcorn Shoppe, their senses are immediately met with the smell of rich, buttery caramel that is made on-site at both locations. That tantalizing caramel recipe is used to create two of Outer Banks Popcorn Shoppe's best-selling flavors—Drizzle, caramel popcorn drizzled with white and milk chocolate, and Corolla Crunch, caramel popcorn coated with almonds and cashews which Jagucki calls "like a Crunch 'n Munch on steroids."
While the comforts of caramel are temping, Outer Banks Popcorn Shoppe also has an array of one-of-a-kind flavors, including dill, bacon and cheese, and even watermelon, as well as a Flavor of the Month and seasonal flavors.
"That's the fun part. A lot of people are like, 'I've never seen anything like this. How do you have all these different flavors of popcorn?' People are sort of blown away."
–By Arielle Patterson
Hours After Memorial Day:
Duck
Monday- Friday 10:30-8
Saturday 10:30-4

Corolla
Monday - Friday 10:30-9
Saturday & Sunday 10:30-4