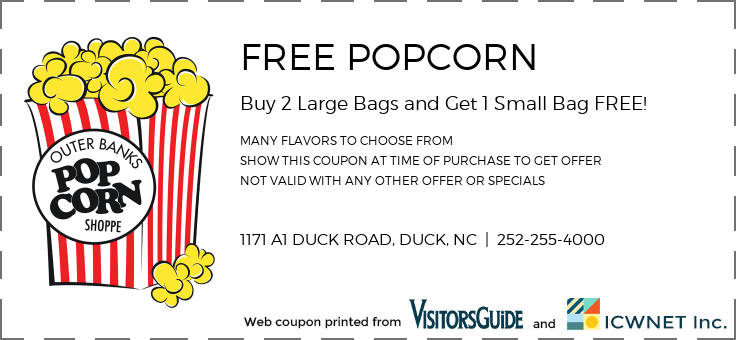 print
At Outer Banks Popcorn Shoppe, indulge to your heart's content in glorious popcorn. This family-owned shop makes a wide variety of popcorn flavors to entice you into becoming a major fan. They use quality corn and fresh ingredients including real butter and fine chocolate. With over 20 flavors made fresh daily, you might want to sample a few – yes they offer free samples – before deciding on which to take home. Flavors range from the trusty buttered popcorn, caramel and white cheddar to Old Bay and watermelon.
Outer Banks Popcorn is dedicated to freshness and makes all popcorn in small batches. They hand bag it the same day in a humidity-controlled store to ensure long lasting freshness. You can order popcorn in specialty bags to use as party favors for birthdays or other occasions. Check out their flavors at the shop or online at outerbankspopcornshoppe.com. While this is a seasonal shop, they do offer online shopping when it closes!
Choose your favorite tins for the holidays, your favorite sports team, birthdays and events! You can mongram your buckets too!
Select from 1, 2, 3 gallon tins and even personalize party favors with a variety of delicious flavors. Our lunchbox tins are great for collecting, a special event and birthday parties!
Are you looking to WOW your clients with a custom thank you gift? We've got the perfect thing! A custom tin of gourmet popcorn with a custom corporate sticker designed just for your organization. These personalized business gifts are unique and created individually for your business. These premium corporate gifts will keep everyone talking about your company's excellence and personal touch. You can pick the tin size, the flavor of gourmet popcorn, and send us your company logo to create a custom sticker just for you.
We have 2 locations to serve you!
Read what they're saying about us!
SPECIAL PROFILE——
A Passion For Popcorn
Great Things are Popping at Outer Banks Popcorn Shoppe
Things are popping all along the Outer Banks, especially (and literally) at Outer Banks Popcorn Shoppe. Owner Ted Jagucki is elevating the popcorn game with his made from scratch small-batch offerings in a variety of unique and mouth watering flavors.
Ted moved from northern Ohio to the Outer Banks in 2004. "I saw a need for locally-made snacks and no one was producing and selling gourmet popcorn here yet." He grew up loving popcorn, and has always loved to cook, experiment and create in the kitchen. "We focus on taking raw ingredients and turning them into excellent flavor combinations for our customers. That's why we cook onsite in each of our stores."
Over a decade later, after opening in 2008, Outer Banks Popcorn Shoppe now has two locations in Corolla and Duck. They ship their delicious popcorn to anywhere in the United States with their online shopping platform and also help organizations fundraise for causes locally and nationwide.
Running a business for that long is no easy feat. Jagucki attributes the success of the Popcorn Shoppe to the loyal returning customers each year. "We try to offer an experience when you are in our stores. People are surprised by our generous samples and variety of more than 20 flavors".
When a customer walks into Outer Banks Popcorn Shoppe, their senses are immediately met with the smell of rich buttery caramel and candy coated delights. That tantalizing caramel recipe is used to create many of their delicious flavors. Their best sellers are Drizzle–a caramel popcorn drizzled with white and milk chocolate—and Corolla Crunch, which perfectly pairs their homemade caramel with candied almonds and cashews.

While the comforts of caramel are tempting, Outer Banks Popcorn Shoppe also has an array of one-of-a-kind flavors, including dill, bacon-n-cheese, jalapeno cheddar, and even watermelon, as well as a Flavor of the Month and seasonal flavors.
"That's the fun part. A lot of people are like, 'I've never seen or heard of anything like this. How do you have all these different flavors of popcorn?' People are sort of blown away."
Hours After Memorial Day:
DUCK
Scarborough Lane Shoppes
1171-D5 Duck Rd Duck, NC 27949
Monday- Friday 10:30-8
Saturday 10:30-4
COROLLA
TimBuck II Shopping Center
799 Sunset Blvd Corolla, NC 27927
Monday - Friday 10:30-9
Saturday & Sunday 10:30-4