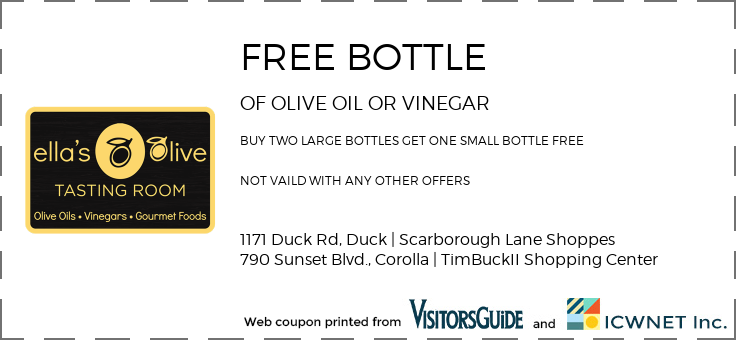 print
Only The Best Taste and Widest Selection of
Oils & Vinegars in OBX!
Inspire the gourmet in you and transform everyday meals from ordinary to extraordinary!
Ella's Olive Tasting Room is a high end gourmet food store located in Scarborough Lane Shoppes and TimBuck II Shopping Center. We provide a unique and interactive customer shopping experience through tastings of over 75 varieties of artisan Olive Oils, Balsamic Vinegars and Gourmet Food.

Through our pairings suggestions and recipes, we aim to inspire our customers to create their own great tasting, healthy and simple to prepare meals that will be enjoyed by family and friends. Even the kids will want to eat veggies that have been drizzled with our pairings of Olive Oils and Balsamic Vinegars.
Try Garlicky Clams with Ancho Chile Paste or Rosemary, Lentil, and Sausage Soup. We also have recipes for cocktails like Jalapino Lime Margarita, and even for desserts like Valentine's Day Perfect Trio–Strawberries, Chocolate Balsamic Vinegar & Pound Cake.
Shop for gift packs or let us help you put together a gourmet gift package!
Duck
Scarborough Lane Shoppes
Open on Fridays & Saturdays from 10am-5:00pm
Open Sundays from 11am-4pm

Corolla
TimBuckII Shopping Center
Open on Fridays & Saturdays from 10am-5:00pm
Open Sundays from 11am-4pm