Kitty Hawk
Manteo
Corolla
Duck
print
print
Serving our customers on the Outer Banks since 1994, Big Buck's Homemade Ice Cream is dedicated to serving you "The Best." We offer a full line of super-premium ice cream products, including ice cream cakes, Handmade Belgian chocolates, Fudge and Espresso Drinks.
Contact us to order your own custom Big Buck's Cake! ORDER NOW at BigBucksOBX.com
Our Ice Cream is made fresh daily. We use fresh milk, cream and sugar, pasteurize these ingredients and create a delicious creamy, natural super-premium ice cream.

We offer a full line of Espresso Drinks from Hot Vanilla Cappuccinos and Hot Chocolate to Iced Caramel Lattes & Frozen Mochas, all made to order.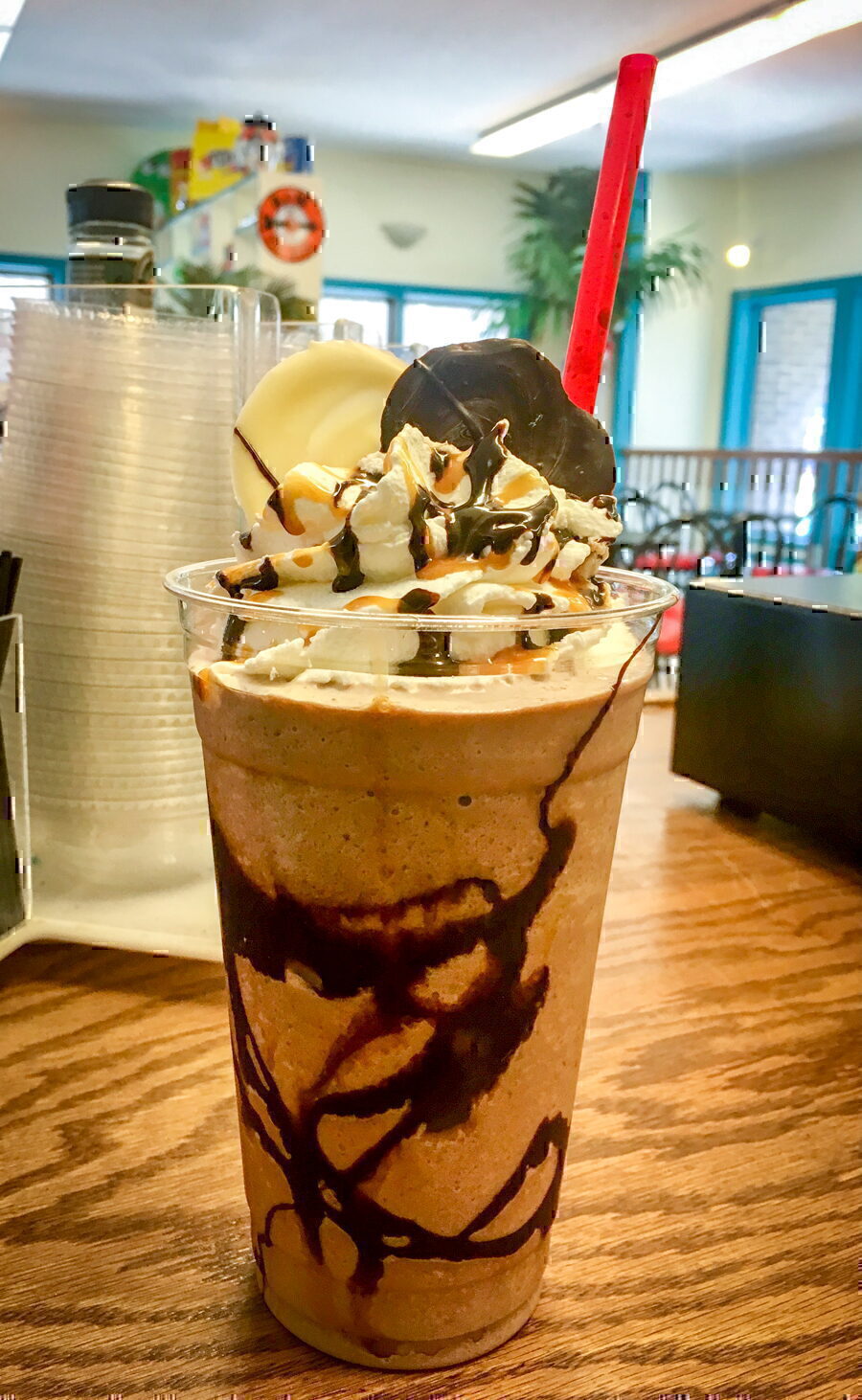 Big Buck's fresh fruit smoothies are lactose-free and made to order. Also offering lactose-free sorbets made from the best fruits available. Old time favorites are sure to please! Choose from a delicious collection of milkshakes, sundaes and banana splits.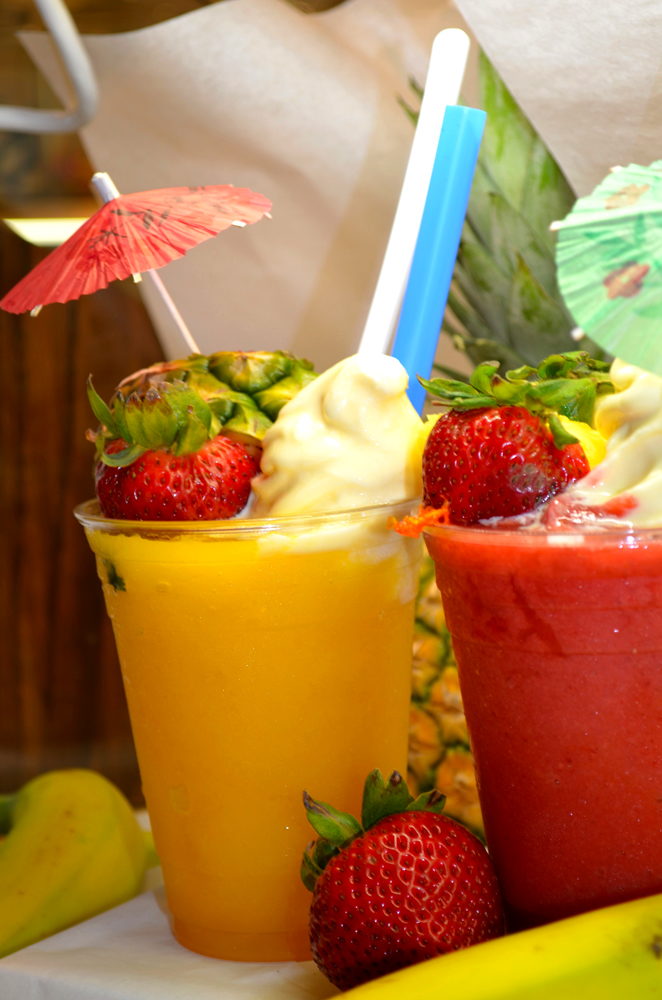 Ice Cream Cakes: Available in a large variety of flavors; Cookies & Cream, Mint chocolate chip, Reese's Pieces & Fudge just to name a few. All Decorated with fresh cream and Belgian Chocolate. Contact us to order your own custom Big Buck's Cake!! ORDER NOW at BigBucksOBX.com
2 locations are open all year: Kitty Hawk, at Buccaneer's Walk Shopping Center and Manteo, at The Waterfront Shops.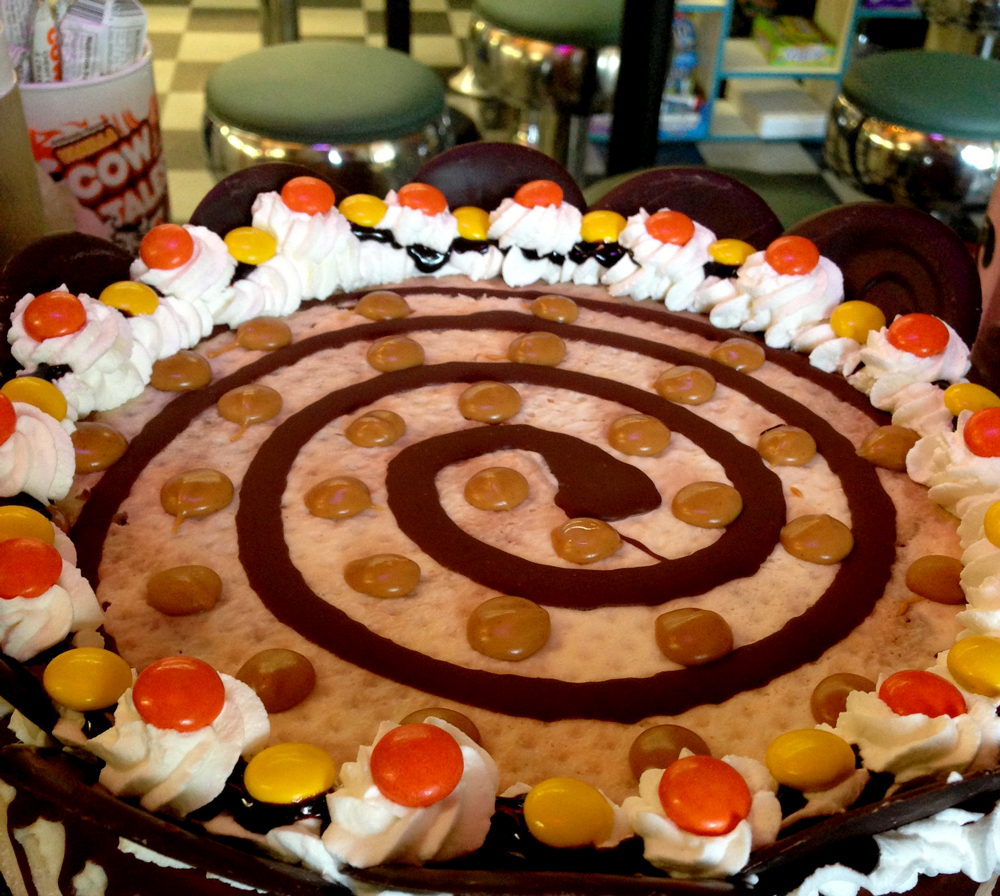 Savor the moment with our Homemade Chocolate! Chocolates are made daily in each location. We offer a large selection from Dark to Milk to White. Milk Chocolate Oreos & Almond Toffee, Dark Chocolate Berries and Cherries Clusters & Hand-dipped Peppermint Patties with a Drizzle of White Chocolate, Extra-Dark Sea Salt Caramels & our famous homemade caramel chocolate pretzels oh & don't forget the ever-popular caramel pecan turtle, just to name a few treats!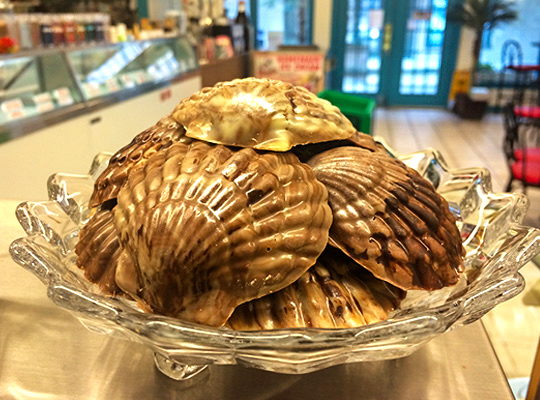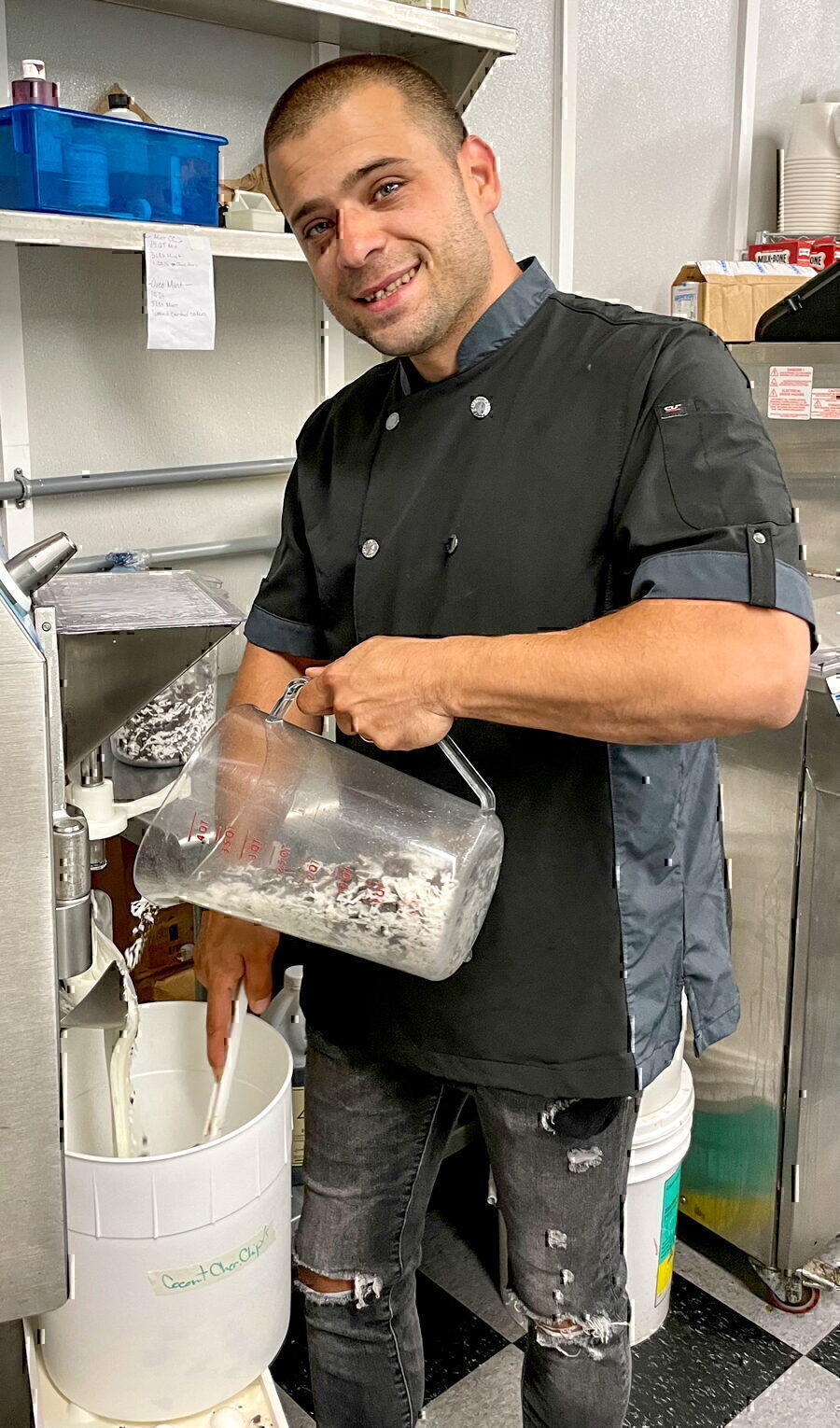 A Happy Business
Big Buck's Ice Cream Has Been Serving up Smiles to OBX Visitors for 27 Years
Belinda Pleva grew up serving ice cream out of her parent's shop. She loved being part of what she calls "a happy business." "I love it when people come into the shop and you hand them something, and it makes them smile," Pleva says. "That moment when you hand an ice cream cone over to a little kid and their eyes just light up. That's what I love about the ice cream business."
In 1994, Pleva opened up her own ice cream and chocolate shop, Big Buck's Ice Cream, in the brand-new Timbuk II Shopping Center in Corolla. Business was good, but something was missing.
"I was never satisfied with the ingredients in the ice creams and chocolates you could purchase back then. I wanted to serve my customers delicious flavors with ingredients they could actually pronounce," Pleva says.
Pleva took a trip to Italy to study the gelaterias. She fell in love with the incredible flavors, and when she returned home to the Outer Banks, she began working tirelessly to perfect the flavors in her own ice cream.
Big Buck's homemade ice cream combined the flavors of the Italian gelaterias and the richness of American ice cream. It quickly became a tourist favorite. After having the same unsatisfactory experience with the readymade chocolates she was selling, she also took a trip to Brussels to learn more about making handmade chocolates. Pleva brought the chocolate-making experience right back with her, and the result was the finest quality of chocolates on the Outer Banks.
After her huge success in the Corolla shop, Pleva was able to open up three more shops—one in Kitty Hawk, one in Manteo and one in Duck.
"We've added and changed some things up over the years, but our homemade ice cream is still our original recipe. There are always fads, but our consistent top sellers are our staples: vanilla, chocolate, strawberry, chocolate peanut butter, cookies and cream, espresso chip, sea salt caramel pretzel, and mint chocolate chip," Pleva says.
"I love that our customers line up out the door for us, they know we're always consistent, our ice cream is homemade, and they're coming back to a happy atmosphere every time."
—By Chelsea Sherman
Recent Reviews from TripAdvisor
"Big Buck's Ice Cream is definitely homemade, and delicious to boot! Even members in our family who aren't ice cream fans loved this cold dairy treat. We came here two separate times during our week vacation to Corolla, Outer Banks, and wished we had gone every night in between."
"Great Ice cream in the heart of TimBuck II shopping center. Stays open later then most of the other ice cream places in the area and it's nice to get a scoop and walk around in the shops. Ice cream is a bit on the pricey side but overall pretty decent and generous with the portions. Highly recommended. Great Homemade Icecream!
"I am not really into ice cream, but when I walk in here I want to try it all! I ordered the frozen caramel cappuccino and it was amazing. they put whipped topping on and a white chocolate wafer. My girlfriend is in love with the frozen strawberry lemonade (dairy free) and she said it was the BEST lemonade she has ever had."
"Big Buck's has one of the best homemade ice creams I have ever tasted. My two favorites were the Banana Peanut Butter Swirl and the Peanut Butter and Cookies. Located in the Timbuk II shopping center it is a great place to visit after a long day of shopping or after eating atone of the restaurants located there."
LOCATIONS
Corolla
Timbuck II Shopping Center
Corolla, NC 27927
252-453-3188
Kitty Hawk—OPEN ALL YEAR ROUND
Buccaneer's Walk Shopping Center

Kitty Hawk, NC, 27949

252-715-0779
Manteo Waterfront—OPEN ALL YEAR ROUND
The Waterfront Shops
207 Queen Elizabeth Ave.
Manteo, NC 27954
252-423-3118
Duck
1180 Duck Road
Duck NC 27959
252-715-4467
Big Buck's Homemade Ice Cream your Sweet Tooth Station Sensation!