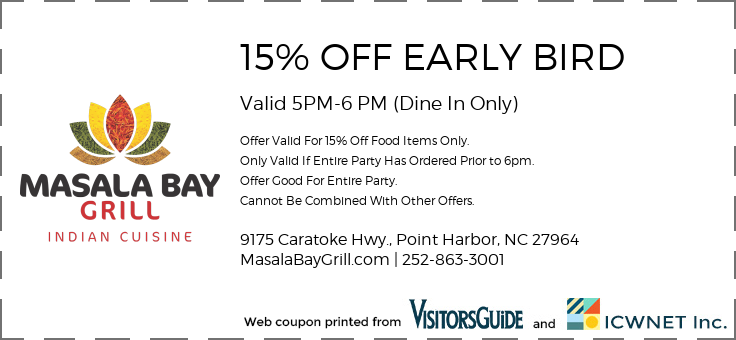 print
Masala Bay Grill – New Waterfront Restaurant On The OBX!
A Taste Of India With A View Of The Outer Banks
The Outer Banks is in for a real treat as the first authentic Indian Cuisine Restaurant opens its doors. Located on the northern end of The Wright Memorial Bridge, Masala Bay offers locals and visitors a taste of delicious North Indian food on the Currituck Sound.
Masala Bay has a beautiful, waterfront setting and fills a gap in OBX dining, providing genuine North Indian cuisine. The restaurant offers a special experience; with attentive service, unique ambience, full bar and delicious food. Open for lunch and dinner (closed between 2:30-5pm), Masala Bay delivers a variety of hearty dishes and also excellent choices for vegans and vegetarians. Take-out party platter options are available – a convenient option for home celebrations and Outer Banks vacationers.
Masala Bay's Chef Suneej has been part of several successful restaurants and catering services in Northern Virginia. Seeing this great opportunity before him, he made the decision to relocate to the Outer Banks, bringing his experience and recipes with him. Born and raised in northern India, he boasts humble beginnings: he started his culinary journey in his grandmother's kitchen which developed his food philosophy of locally sourced and globally inspired Indian cuisine. He describes his food as "Indian food with an international accent".
Still in the works for the restaurant are waterfront music, wedding and special events and online ordering.
9175 Caratoke Hwy, Point Harbor, NC 27964
Call (252) 863-3001