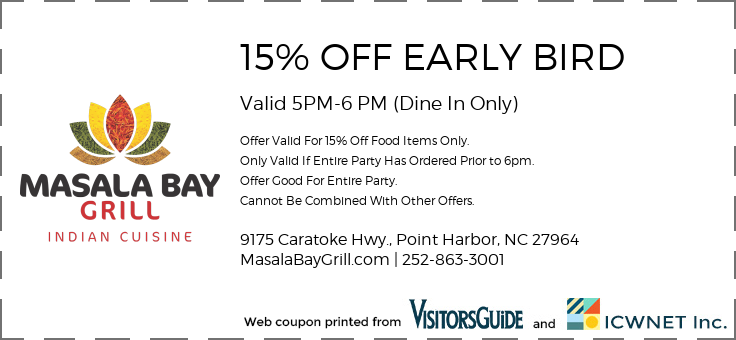 print
Masala Bay Grill – New Waterfront Restaurant On The OBX!
A Taste Of India With A View Of The Outer Banks
The Outer Banks is in for a real treat as the first authentic Indian Cuisine Restaurant opens its doors. Located on the northern end of The Wright Memorial Bridge, Masala Bay offers locals and visitors a taste of delicious North Indian food on the Currituck Sound.
Masala Bay has a beautiful, waterfront setting and fills a gap in OBX dining, providing genuine North Indian cuisine. The restaurant offers a special experience; with attentive service, unique ambience, full bar and delicious food.
Open for lunch and dinner, Masala Bay delivers a variety of hearty dishes and also excellent choices for vegans and vegetarians. Take-out party platter options are available – a convenient option for home celebrations and Outer Banks vacationers.
INDIAN CUISINE
Indian cuisine is a combination of subtle flavors and as exotic as the people of India. To create Masala, we delicately blend meticulous portions of fragrant, pungent and warm spices from the four corners of the country. The blending and preparation of spices is a centuries-old craft and indispensable to Indian cuisine.
Each dish will have its' own distinctive flavor and aroma. Our traditional dishes are rooted in the soil of Northern and Southern India and they are prepared in our restaurant as we would in our own homes.
FINEST INGREDIENTS
TENDEREST MEAT AND FRESHEST VEGETABLES.
Masala Bay's creations are rich and intense including tender and juicy Chicken Tikka Masala, nuanced Lamb Vindaloo, perfectly seared Sea Bass and more. The garlic bread, robust chutneys, and well-chosen wine list alone merit a visit. Generations of Indian culinary tradition presented by gracious servers amid tasteful décor and a beautiful sound front setting awaits you.
DRINK WITH FRIENDS
COOL COCKTAILS AND EXOTIC BEERS.
Masala Bay Grill is a waterfront restaurant with simplistic interior that embraces coastal elements. Indoor seating creates the feeling of shared experiences and a community vibe that enhances the laid back atmosphere while outside patio seating takes full advantage of the Currituck Sound.
Dine amongst the beautiful birds that line the sound and take in the views for a luxurious evening without the pressures of a formal atmosphere.
INDIAN CUISINE OFFERS A HUGE VARIETY OF VEGAN, VEGETARIAN, AND NON-VEGETARIAN CHOICES
Open Tuesday to Sunday
12pm - 3pm
5pm to 9pm
9175 Caratoke Hwy, Point Harbor, NC 27964
Call (252) 863-3001