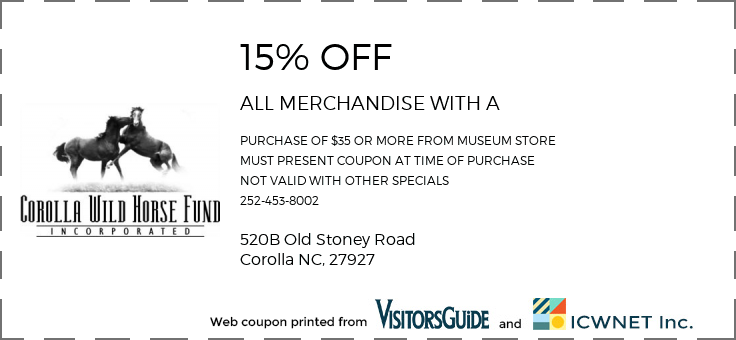 print
We are temporarily closed to visitors while we move into our new office. We are still monitoring horses. We will be re-opening in stages – our gift shop, our education center and tours. Please visit our website to see the current moving status.

See the horses and save the horses!
We are the nonprofit charity that is responsible for the care and protection of the wild horses. Do you want to see and learn about the horses and help them at the same time? When you go to see the horses with the Corolla Wild Horse Fund, you automatically become a member and will experience a two hour Trip of a Lifetime with one of our Sanctuary Patrol Officers. Also check our website for our fun children's activities, Meet a Mustang, and Ride a Rescued Mustang at our two locations in Corolla and Duck; shop at our Museum Stores; learn about the history and future of the horses. Like us on Facebook. All proceeds go back to the care and protection of the wild horses.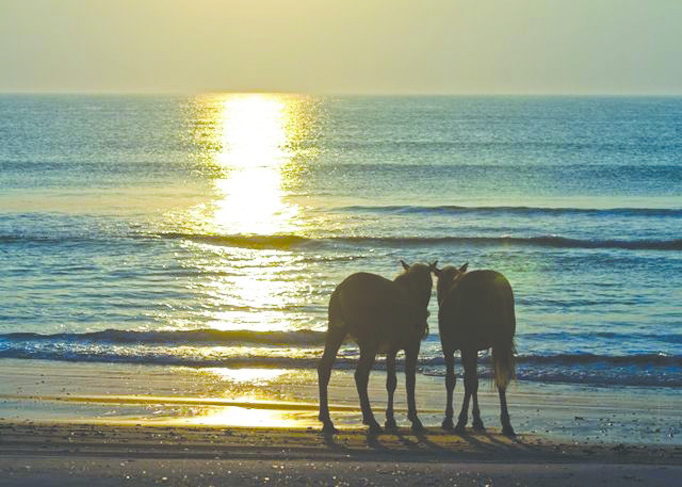 What does the Corolla Wild Horse Fund do?
Our primary purpose is to manage the wild horse herd living north of Corolla. Management includes population control; monitoring herd and individual horse health; 24/7, 365 days a year emergency response and rescue; breed conservation; maintenance of an off-island rescue facility; gentling and training of horses removed from the wild as a result of a life-threatening illness or injury; nationwide adoption program; fence and cattle guard maintenance; and research studies. Other support programs include public education; advocacy; habitat preservation; children's programs; Meet a Mustang; and Ride a Mustang.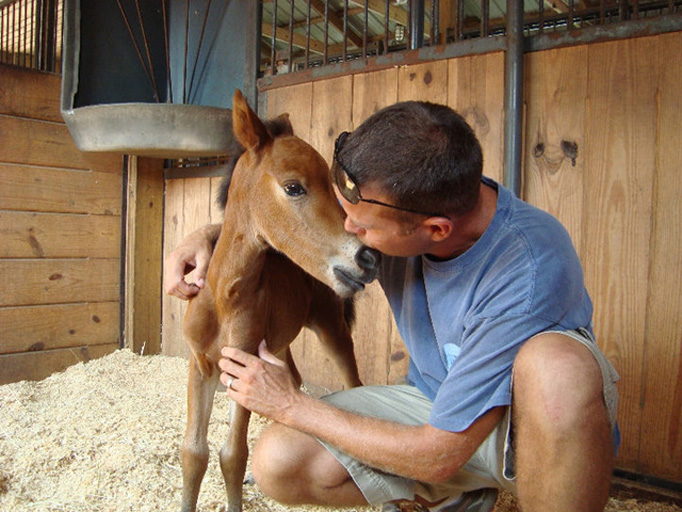 What motivated the group to form?
Between 1985 and 1996, twenty horses were killed or seriously injured by vehicles on the stretch of road between Duck and Corolla, and a group of citizen-volunteers came together to change this tragic, destructive pattern. Many of today's visitors to the Outer Banks do not know that before 1985, the 17 mile stretch of road between Duck and Corolla remained unpaved and infrequently traveled. Paving that road opened the floodgates for development, tourism, and more and more contact between wild horses and humans–and their vehicles.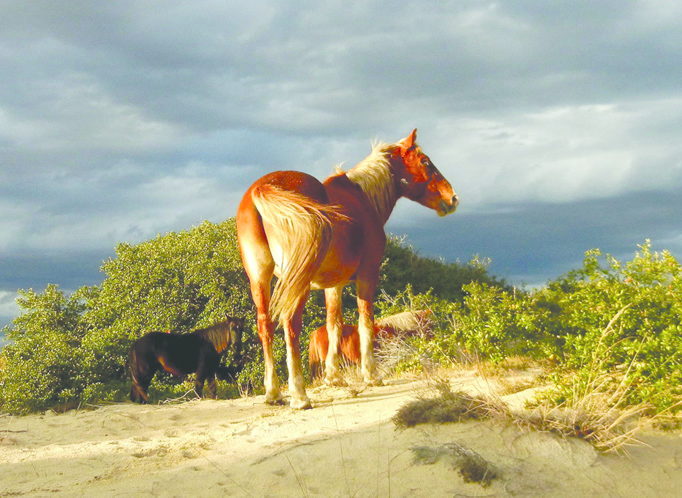 "The Sanctuary" and the Sound-to-Sea Fence
The early founders of CWHF researched and attempted several strategies to stop horse fatalities caused by traffic on Highway 12 between Duck and Corolla. In the end, the most effective solution, even though controversial, was to move the remaining twenty horses north of the paved road–to the "north beach" or "4×4 area." (No one knew for certain how many wild horses were already in the unpaved area north of Corolla.) By 1997, CWHF completed the southern sound to sea fence at the end of the hard road and the wild horses were relocated to the new "sanctuary." The northernmost fence is eleven miles from the end of the paved road on the Virginia state line. Unfortunately for the horses, development continues to push north. Although referenced as a wild horse "sanctuary", the 7,544 acres accessible to the horses actually is a mix of 1/3 public land and 2/3 private land. There are 3,500 platted lots with 21% of the northern beaches currently developed. The beach is considered public road, and it is open to the public. It is the only access for residents and visitors to Swan Beach, North Swan Beach, and Carova, the growing communities north of the hard road. You can purchase the DVD, "Wild in Corolla," to learn more about the formation of the Fund and its effort to relocate the horses. The film is narrated by Charles Kuralt and is available at the Fund's two wild horse museum stores or online.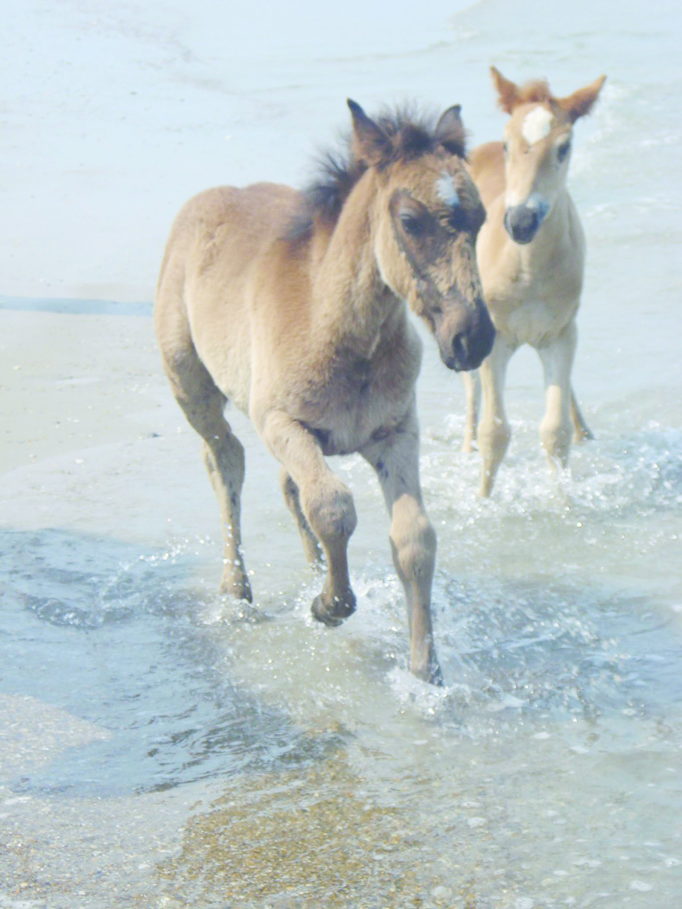 Locations and Activities
The CWHF headquarters is located at 1129 Corolla Village Road in Old Corolla Village, Corolla, NC. We operate an interactive wild horse educational museum and store and welcome visitors year round. A second, seasonal museum store is located in Duck, in the Scarborough Faire Shopping Center. Children's activities are offered between Memorial Day and Labor Day and the Meet a Mustang program in Corolla continues through Thanksgiving, weather permitting. All proceeds from stores, trips to see the horses, and activities benefit the wild horses. Donations are tax deductible.
Summer children's programming includes a fun Paint a Mustang activity that offers kids of all ages the opportunity to paint three different sizes of wooden horses in both our Duck and Corolla locations. Every Friday you can Meet a Mustang in Corolla when a rescued and gentled Colonial Spanish Mustang comes to visit. When rehabilitated horses are saddle trained and available, the Fund offers children a chance to actually Ride a Rescued Mustang on Wednesdays at our Scarborough Faire location in Duck. In addition, we would love to speak to your group about the past, present, and future challenges faced by the wild horses. If you would like a representative to speak to your classroom or civic association, please e mail for more information.
Help us keep the horses safe! View them from at least 50 feet away (Currituck County Wild Horse Ordinance) and DO NOT FEED! Besides being against the law, feeding has been fatal. The wild horses have a very specialized diet. Feeding puts them at risk for painful and sometimes fatal colic. Report feeding to Currituck County Dispatch at 252-232-2216.