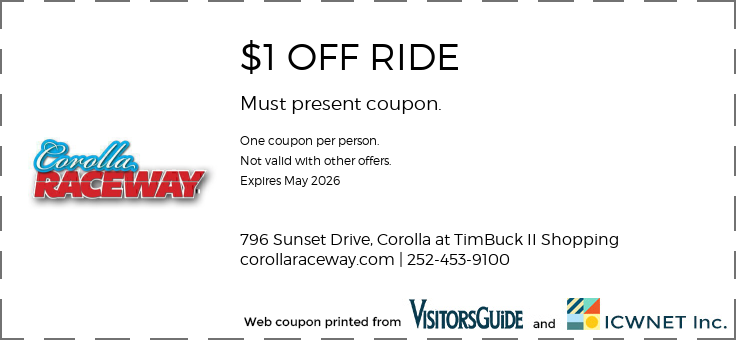 print
Open May - September

Corolla Raceway is the premier Go-Kart experience. Our upscale facility is designed to provide a first class entertainment experience. Corolla Raceway provides the newest Single, Double, and Jr. Go-Karts, along with Bumper Cars for the entire family.
We are located at the rear of the Timbuck II shopping complex. It is a clean, fun stop for kids of all ages. The shop is well lit and open so that you can see everything making it easy to keep an eye on young folk. And, you also can keep an eye on nature as the track has a view of the sound. The game room features Redemption Games, Video Machines, Basketball, and Ski Ball, including Ice Ball, Hoop Fever, Mini Dunx, Big Buck Safari, Road Burners, Monopoly, Drift, Super Bikes, Hammerhead and more.
Jr Racers shut down at 4:30 p.m everyday
Visit Corolla Raceway and leave boring at the beach!
ATM ON SITE